The Vista AVS is intended to make the ABI and other arterial exams faster and easier to conduct, interpret, and document. The exam is managed by an on-screen guide and hand-held controller.
Features include:
Automatic cuff inflation/deflation system
Graphic waveform display with on screen step-by-step ABI guide, & "FastView" mode to customize your exam
Automatic ABI & TBI Calculation (Ankle Brachial Index and Toe Brachial Index)
Built-in printer for waveforms, pressures, and index on adhesive-backed label paper
Photoplethysmography (arterial PPG) for digit pressures
Bi-directional Doppler (5 and 8 MHz probes) & 5 blood pressure cuffs included
Pulse Volume Recording (PVR) waveform modality
Battery or line-powered operation
Optional software with full page reporting and exam storage, allows download capability for EMR Systems (pdf and comma delimited formats - USB Interface to PC)
One year warranty on unit, 90 day warranty on cuffs.
Quick Return on Investment:
The LifeDop vascular testing system pays for itself in as little as three weeks. The diagnosis of Peripheral Arterial Disease (P.A.D.) is reimbursable under CPT code 93922 at an average of $95/exam!*
*Average based on published Medicare Fee Schedules, CMMS Part B contractors, 2007.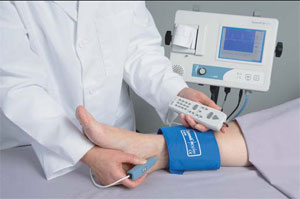 Optional:
-- Extended Warranty includes all software upgrades in warranty period - Excludes cuffs and batteries.