The Brewer Company was awarded the Health Industry Distributors Association (HIDA) Product of the Year for 2006 for the Brewer Access High-Low Exam table!!
Brewer has done it again. Introducing the Brewer Access High-Low Exam Table; premiering the industry's first true chair to table design that easily take patients from consultation to examination.
The Brewer Access High-Low Exam Table is clearly the:
most convenient for patient consultations and examinations.
safest for patient and wheelchair transfers.
most reliable.
most user-friendly.
most patient-friendly.
most technologically advanced high-low exam table on the market.
Features include:

- Chair-to-table design effortlessly takes patient from consultation to examination. Return to chair feature easily takes table back to chair position in one, simple step (on power back model only).
- 18" low height for easy and safe patient transfers.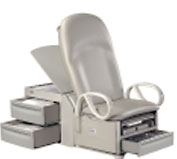 - Standard grab bars provide patient added safety and comfort.
- Provides patients a stable and secure grab point to use when getting on and off table.
- Conveniently swings out for lateral wheelchair transfers.
- Easily removable and standard on all models.
- Abundant storage capacity.
- Patented pass-through side drawers allow left or right access. Eliminates right or left hand setup problems.
- Additional spacious front drawer.
- Convenient covered paper roll storage holds up to six rolls. Cover keeps paper rolls clean.
- Pass-through work surface pulls out on right or left side. Saves space by eliminating the need for additional stands or trays. Perfect for charts, instrucments, procedure preparation, or portable computer.
- Comfortable, ergonomic upholstery. Easy to clean surface; seamless design.
- Intuitive foot control. On / Off switch (located on the back of table) allows table's foot control to be disabled and prevents patients and / or children from moving table.
- Extendable, adjustable ergonomic stirrups.
Warranty:
Safety:
18" low height.
Easy on / off for patients.
Safety grab bars for patient stability and positioning
450 lb. weight capacity.
Safety, extra low voltage.
Standard on / off switch.
Function:
Patented pass-through side drawers.
Largest storage capacity available.
Pass-through work surface on side of table.
Backrest adjusts for easy patient positioning.
Additional paper storage.
Easy to clean, seamless upholstery.
Standard foot controls.
Patient Comfort:
Easy lateral wheelchair transfers.
Safety grab bars.
Multi-density support upholstery.
Adjustable ergonomic stirrups.
Toe board / leg extension / plastic debris tray.
Premium, plush upholstery available.
Aesthetics:
18 standard upholstery color options.
6 premium, plush upholstery color options.
Custom colors available.
Weight Capacity:
450 lbs (under normal use)
Table Dimensions:
Height: 18" - 37"
Length: 57" extends to 72"
Upholstery width: 28"
Leg extension length: 15"
Covered Paper Roll Storage / Paper Roll Holder:
Storage capacity: 23" x 23" x 3.25"
Storage for up to 6 additional paper rolls
Accepts 21" x 3" and 18" x 3" paper rolls
Storage:
Front drawer: 19.7" x 19.2" x 4"
Side drawers: 22.7" x 20.2" x 7"
Pass-through side drawers accessible from right or left side of table.
Covered paper roll storage.
Certifications:
**The color Stucco is featured on all Premium table upholstery selections.**