The Hyfrecator® has been the #1 product of choice by physicians in office based electrosurgery for over 60 years. CONMED is pleased to continue this tradition with the new Hyfrecator®2000 which features: Memory to store up to 3 power settings. Remote control handpiece to change power settings, maintain the sterile field and decrease procedural time. Dual Microprocessors: one to control the function and output of the Hyfrecator®, the second to terminate activation if a hazard or safety issue isdetected. Cost effective alternative to various laser procedures.
Included with Hyfrecator: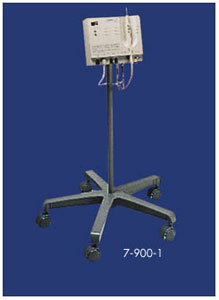 Remote control on Handpiece
High or Low Output ports
Dual Microprocessors
Self-Diagnostic test at power up
Memory to save power settings
Two Non-sterile sheaths
Two Sterile sheaths
Two boxes of Disposable tips (one sharp/ one blunt)

Procedural video

Remote control on handpiece:
Save procedural time and ensures sterility when operating in a sterile field
High or Low Output ports:
Conveniently switch back and forth between settings depending on your procedure. Save your most common procedural settings in both high and low mode. Precise output at low and high settings
Dual Microprocessors:
One microprocessor controls the output and functionality of the system while the second terminates activation if a safety hazard is detected. This makes the Hyfrecator 2000 one of the safest office-based electrosurgery units in the world.
Self-diagnostic test at power up:
Self-diagnostic tests are performed every time you turn on the Hyfrecator 2000. This ensures that all systems are functioning properly which increases patient safety.
Memory to save power settings:
Computer memory saves the last procedural setting until you change it yourself. Automatically saves high, low and bipolar settings.
Reusable Electrode Starter Kit includes one each:
7/8" angle needle electrode
Epilation fine needle electrode
Dental/Vasectomy Needle
5/8" Needle electrode
3/16" Ball electrode